Our Trucks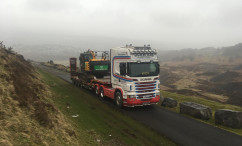 Scania R Series R620
The Scania R 620 holds a very special place in our hearts..
Probably the last truck with a clutch pedal and a gear stick makes driving this big power V8 a pleasure.
With the tag axle (rear lift) and the gearbox she climbs all the wind farms around Europe and forestry tracks with ease .
i'm sure we're not the only operator that plans on keeping her alive for a long while yet!!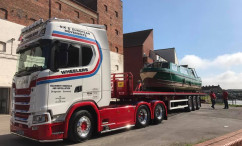 Scania S Series S730
Our S730 is the flagship artic on our fleet..
Rated at 65 tons (STGO CAT2) this truck is capable of just about anything we throw at it!
We're very passionate about the image of our fleet but this one has to be the absolute pinnacle of the latest technology and performance.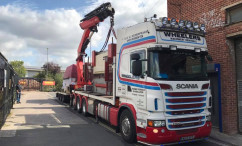 Scania R Series R500
We run three of these Tridem Scania R500 V8's with 80 ton per meter cranes pulling tri-axle drawbars
They are fully equipped with everything they need for machinery moving and installation. They carry slings,chains,shackles,power tools and machinery moving jacks meaning they can take on any job without having to return to the yard.
All the drivers are fully certificated with crane,forklift,slinging and signalling tickets.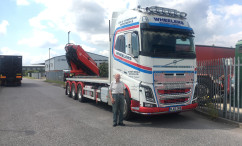 Volvo FH16 650BHP
The Volvo FH16 650 is seen here with company founder Mr Gerry Wheeler
We usually run 16 litre Scania V8's but this is pretty awesome .. the bottom end power of this big 6 cylinder engine is very impressive!!
The Tridem chassis coupled with a Fassi820 is the perfect combination
Again this lorry and driver is a one stop shop, it carries everything for any job.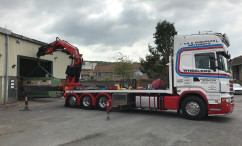 Scania R Series R500
WU12 EFX = 80TM HIAB  – Capable of lifting 22,000kgs at 2.9M out to 3970kgs at 16.15M.
We have vehicles ranging from forklift trucks with a lift capacity of 7 tons to those equipped with HIAB cranes, which can lift 25 tons. We can also provide heavy haulage vehicles up to 80 tons.
Whatever your haulage needs, we can meet them.
Contact us: 01278 456607 or enquiries@wheelerstransport.com